Luau is a Hawaiian term that refers to an event with food, music, and dance. A luau can be hosted in your backyard or on the beach. It can be traditional or modern. The point is for everyone to enjoy themselves and celebrate life! There are many benefits of hosting a Luau at your next event: it's inexpensive, easy to prepare, great party favors, perfect for any occasion (birthdays, graduations, etc.), memorable entertainment (live musicians), cultural experience (Hawaiian dancing), and delicious food (variety of meats, fruits, and vegetables).
Luau is the perfect party for any age group. The activities are fun and engaging for both children and adults. There is something for everyone to enjoy, from the hula dancing to the delicious food. Plus, it's a great way to celebrate a special occasion! If you are making this for your children, be sure to make it colorful and exciting. Choose bright colored flowers as centerpieces or tropical fruits as party favors. Even if you make the favor bags simple, kids will still appreciate the little things like fruit snacks wrapped in cellophane bags.
A Luau is a great way to bring people together
A Luau is a great way to bring people together. A luau is a Hawaiian party, typically held outdoors, and includes a meal of traditional Hawaiian food. The word "luau" comes from the Polynesian term for "feast". In Hawaii, it specifically refers to an evening party where cold poi (a paste made from taro leaves) is served along with pork or chicken dishes such as kalua pig and laulau that are wrapped in ti leaves then steamed.
In other parts of Polynesia, the term "lu'au" may refer to any large public celebration involving music and dance. The origins of the modern luau are uncertain, but it is thought that they may have originated with the hula dance. In the early 1800s, missionaries arrived in Hawaii and tried to ban hula. However, the Hawaiians continued to practice their culture in secret, and the luau emerged as one of the ways that they could celebrate their traditions.
It's an inexpensive party option because all you need are tables, chairs, and decorations
Luau parties are a great way to entertain friends and family without breaking the bank. And they're also fun because you can get creative with your decorations! There's no need for expensive, store-bought items when you have so many things that would work in your own home or backyard: streamers, balloons, lanterns, flags, flowers, plants.
You could even use some of the leftover food from Thanks giving dinner as decoration! And if you want to add more splashes of color and patterns to all those green leaves hanging around outside (or inside!) then try adding tablecloths or placemats in reds oranges yellows purples blues greens browns golds silvers greys blacks whites–anything that will brighten up the scene and create an interesting contrast. Of course, if you're looking for an event that will really wow your guests, you could always consider hiring a professional party planner to help you out. But even if you go that route, it's still a good idea to have some idea of what kind of party you want to throw. That way, you can be sure to give your planner the information they need to make your vision a reality.
You'll have plenty of food options for your guests to choose from
There are many aspects of the Luau that will make your guests feel like they've stepped into paradise. Let's explore how this can be done with just five simple ingredients: food, games, entertainment, location, and attire. At any type of gathering there needs to be plenty of yummy options for people to choose from when it comes time for food.
One major part of the Luau experience is the authentic Hula dance show which will get everyone up on their feet wanting more after witnessing such amazing talent. The show works great with the beautiful backdrop of the beach. When it comes time to eat, many food options can be added to your menu including poke bowls, meat skewers, and even sushi if you're not too far from civilization. Even though many guests have just finished watching a bunch of people dances in grass skirts for an hour or so, everyone is bound to get hungry again fairly quickly once they start eating!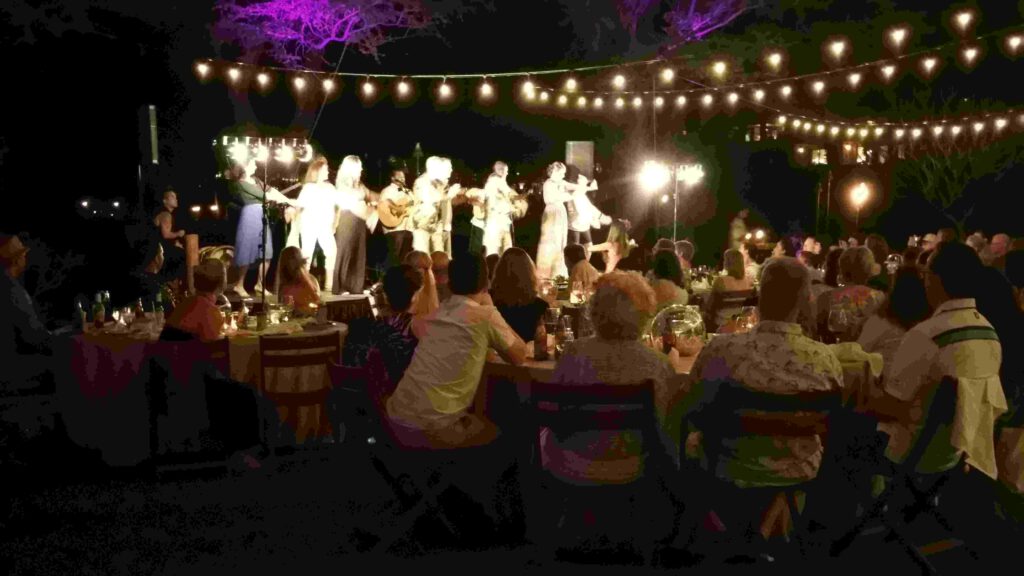 Guests will enjoy the entertainment at the event
A Luau is an event that typically includes lots of Hawaiian food and entertainment. Most people associate this kind of event with Hawaii but it can take place anywhere in the world as long as there are some aspects of Hawaiian culture included. While it is often celebrated on the island of Hawaii, it can be held anywhere and whenever. The entertainment aspect of a Luau typically includes music and dances from Hawaiian culture such as hula dancing, ukulele playing, and singing.
This is what makes this event so popular because people love to see their dance performances and hear them sing. There are also other kinds of Hawaiian entertainment that you might want to consider having at your Luau including fire knife dancers, Kapa (tapa) cloth demonstrations, and lei-making lessons. You could even hire some Polynesian dancers like Maori or Samoan if you don't have enough time for those who specialize in Hawaiian dancing.
Your guests will love wearing Hawaiian-themed clothes or accessories
One thing that people love about luaus is that they can wear Hawaiian-themed clothes or accessories. Another reason why people enjoy going to leases is that they usually involve food and drink, which everyone loves! Finally, one more benefit of having a Luau at your event is that it will be unique and different from other events you may have had in the past. You should give hosting a Luau at your next event some serious thought!
The luau theme can be incorporated into other aspects of your event like decorating or games
Luau themes can be incorporated into other aspects of your event like decorating or games. For example, an event could have a luau-themed cake and decorations with traditional games such as limbo and coconut bowling. Other more modern ideas include having a luau-themed party at the beach. Themes can also be used for food and drinks such as luaus on the beach theme would entail having tropical fruit juices or cocktails to drink while playing games like limbo or smashing coconuts on their heads. These are just some examples of how you might incorporate a luau theme into your next event!