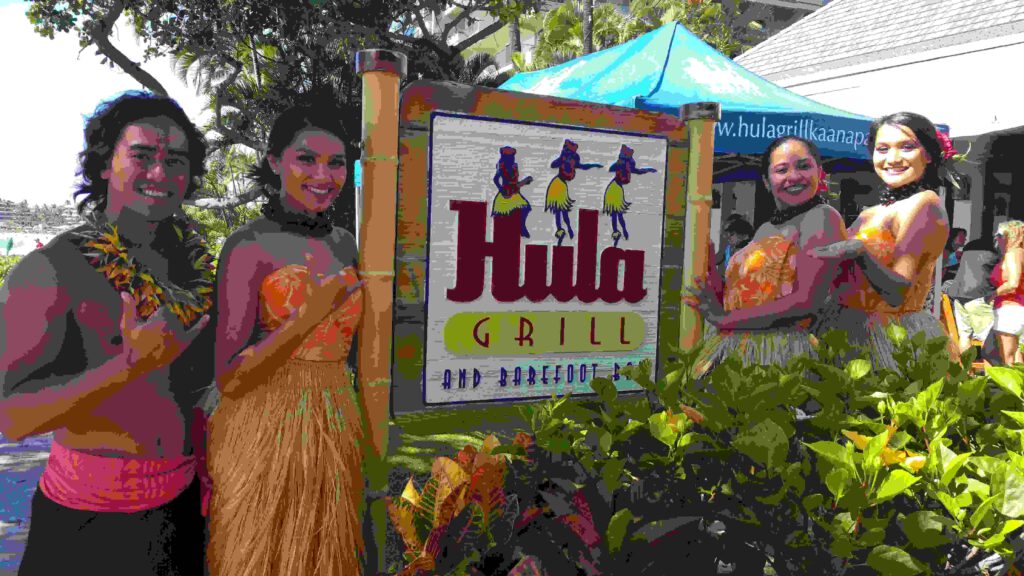 Hawaii offers many different activities
---
We offer Hula classes right at your hotel, timeshare, or private residence near Kona or Waikoloa, Hawaii. To learn more about our services, read on.
Hula lessons for everyone! Are you a beginner dancer and would like to learn some basic steps? Are you an experienced dancer and want to refine your skills while enjoying the warm Hawaii sun during a break from surfing, swimming, or hiking?
Perhaps you would love to surprise someone special with a birthday party that will be remembered forever. What better way to celebrate a birthday, anniversary, or any special occasion than to learn how to dance in Hawaii?
Hula Dancing is Fun!
Our professional hula dancers at Hawaii Luau Company teach hula lessons big island Hawaii during your stay at the beautiful island of Kona or Waikoloa, located on the big island of Hawaii. Here you will be experiencing some of the kindest people and best weather that Hawaii has to offer.
Our rates: $389 per hour for up to 10 people per hour. Additional students may be added at a cost of $25 per person
When: We come to you if you are staying near Kona or Waikoloa on the big island of Hawaii.
Where: We can go to most hotels, timeshares, or private accommodations on the big island.
Why Hula Dancing Classes?
---
Sometimes, it can be hard for them to grasp what they are being taught in a classroom setting when trying to teach your kids new skills. By learning how to dance in Hawaii with our hula dancers, parents will have an easier time teaching their children some basic beginner steps of this beautiful Hawaiian art form at their own pace and on their schedule.
These classes are perfect for children who need more personal attention while learning something new. Also, our hula dancers can teach your children a routine that they can take home and show their grandparents.
If you are a business owner and want to have something special for your employees or clients during meetings or seminars, then our hula dancer is the perfect person to help you do just that! Our private hula lessons near Kona or Waikoloa, Hawaii, will be effective in creating an engaging atmosphere while getting away from the office. This will give everyone attending a much-needed break from all the daily grind of work and the stress of deadlines, making it easier to concentrate on what's important; each other and having fun!
The Benefits of Hula Dancing
Hula dancing is an essential form of dance for the Hawaiians. It was born many years ago and had its roots in Polynesian traditions. We all know that the Hawaiians were very fond of this type of traditional dancing, but not many people know what benefits it can give to us today.
As we said before, Hula Dancing brings joy and happiness, and these are some excellent reasons why:
---
If you are tired of boring low impact workouts that don't give you visible results, then maybe it's time to choose something new, thanks to Hawaiian traditions!
So, what are you waiting for? Contact Hawaii Luau Company for Private Hula Lessons on the Big Island of Hawaii now. Start learning some good moves today, and you will undoubtedly notice results in no time. You can practice at home or with your friends/family members if they also wish to learn more about the Polynesian culture through dances!
Reasons Why You Should Hire Us
Are you looking for a fun and unique way to celebrate a birthday? Then we have the answer! We at Hawaii Luau Company offer hula classes for everyone on your special day. Whether your birthday guests are beginners or the more experienced, the entire group will be dancing like pros by the end of their class.
This is the perfect gift for people who enjoy shaking their hips and getting fit while at the same time enjoying some alone time with friends and family in one of Hawaii's beautiful tropical settings.
If you're planning a winter escape to Hawaii, then our Hawaiian hula dancers can also provide some warm outdoor entertainment for your party.
At the same time, they visit paradise during some of the coldest months back home, where it just doesn't seem right to dance outside when it's snowing. But here in Hawaii, it's always a perfect time to dance the hula!
We at Hawaii Luau Company do not only provide private lessons for everyone who wants to learn how to dance in Hawaii. We also offer Hula performances at events such as:
Corporate parties and meetings.
Company retreats and team-building events.
Trade shows and conventions.
Grand openings.
Sales incentives, annual dinners, and award ceremonies.
School dances and graduations.
Festivals and county fairs.
Weddings and more.
We at Hawaii Luau Company for Private Hula Lessons on the Big Island of Hawaii have been dancing and teaching the hula for many years, and we would love to share our knowledge with you, so get ready to experience an island tradition like no other during your next vacation here on The Big Island with Hawaii Luau Company
Contact Hawaii Luau Company for Private Hula Lessons on the Big Island of Hawaii today if you'd like more information about how we can make your birthday party or event a memorable one that people will be talking about for years to come. We look forward to working with you and sharing some Aloha Spirit with everyone who attends.