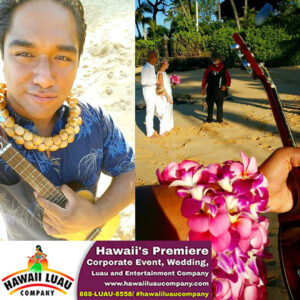 Wedding Officiant Oahu
A ceremony is essential to any celebration. No matter what occasion it is, whether it's a marriage, vow renewal or naming ceremony, we can help. It will be a memorable experience to renew your vows and retell the story of your love.
A beach wedding honeymoon with waves lapping against the shore can be one of the most romantic experiences for any couple. This product is perfect if you want to say your vows on a gorgeous volcanic beach, nestled between palm trees and tropical plants. With glorious stretches of golden sands, this is a paradise-like setting fit for royalty!
The perfect destination wedding officiant for you and your fiancé, wedded bliss starts right here. Say "I do" at the Hawaiian beach we know we can deliver on! All weddings are done with finesse and respect that reflects our sacred heritage. We offer full-service wedding packages to dignify your union, as well as officiant services if you're already ordained. Our family ministers can perform legal ceremonies at residences or even on water vessels! If you cannot find what you're looking for, we'll work with you to create an exceptional service no matter what your desired objective may be.
If you're planning a destination wedding and looking for an out-of-town officiant, look no further–just book with us at Hawaii Luau Company Wedding Officiant Oahu! We're licensed and seasoned veterans of the gig. We do weddings Maui, weddings Oahu, weddings Kauai and weddings Big Island of Hawaii for your big day, we do it all: tent ceremonies, indoor ceremonies; early morning weddings, last minute weddings (within 24 hrs.)
Hawaii Luau Company