Are you dreaming of a Hawaiian vacation but feeling overwhelmed with planning? Look no further! With our Best Hawaiian Island Itineraries, your dream Hawaii vacation is just one download away. These itineraries are more than just a list of activities – they are carefully curated plans for exploring the Hawaiian island of your choice, filled with our favorite things to do and eat.
Living in Hawaii ourselves, we've spent countless hours and dollars exploring and researching to bring you the best experiences. Our itineraries provide up-to-date information for 2021, so you won't have to worry about outdated information. Additionally, we guide you through the pre-travel testing process step by step, ensuring a stress-free journey. From knowing when to make reservations to watching our included video tour, we've thought of everything to help you save time, money, and most importantly, have your dream vacation. Just remember to review our disclaimer and assume any risks associated with your participation. So, stop scrolling and start packing – your unforgettable Hawaiian adventure awaits!
Hawaii Itineraries: Your Dream Vacation Planned in One Download
Are you dreaming of a vacation in paradise? Look no further! Our Hawaii Itineraries are here to make your dream vacation a reality. With our comprehensive guide, you can explore the stunning islands of Hawaii and create unforgettable memories. Whether you're a first-time visitor or a seasoned traveler, our itineraries are designed to cater to all your needs and preferences. So, sit back, relax, and let us plan the perfect Hawaiian getaway for you!
Why Choose Our Itineraries?
With so many travel guides and resources available online, you might be wondering why you should choose our itineraries. Well, the answer is simple – convenience and expertise. We have done all the research and planning for you, so you don't have to spend hours scrolling through countless websites and forums. Our itineraries provide a step-by-step guide, making it easy for you to navigate through the islands and make the most of your time in Hawaii.
We have curated the best activities, attractions, and experiences to ensure that you have an unforgettable vacation. Whether you're interested in exploring the beautiful beaches, hiking to breathtaking waterfalls, or immersing yourself in Hawaii's rich culture and history, our itineraries have got you covered. Say goodbye to the stress of planning and let us take care of all the details, so you can focus on enjoying your dream vacation in paradise.
Step-by-Step Guide to Pre-Travel Testing
Traveling during the pandemic can be a concern, but we have got you covered. Our itineraries include a step-by-step guide to pre-travel testing, which is required for entry into Hawaii. We provide all the necessary information on where and how to get tested, as well as the timeline to follow. By following our guide, you can ensure that you meet the testing requirements and have a smooth and hassle-free travel experience.
Safety is our top priority, and we want to ensure that you have all the information you need to protect yourself and others. Our itineraries also provide guidance on health and safety measures to follow during your trip, such as wearing masks, practicing social distancing, and frequent hand hygiene. We believe that with proper precautions and adherence to guidelines, you can have a safe and enjoyable vacation in Hawaii.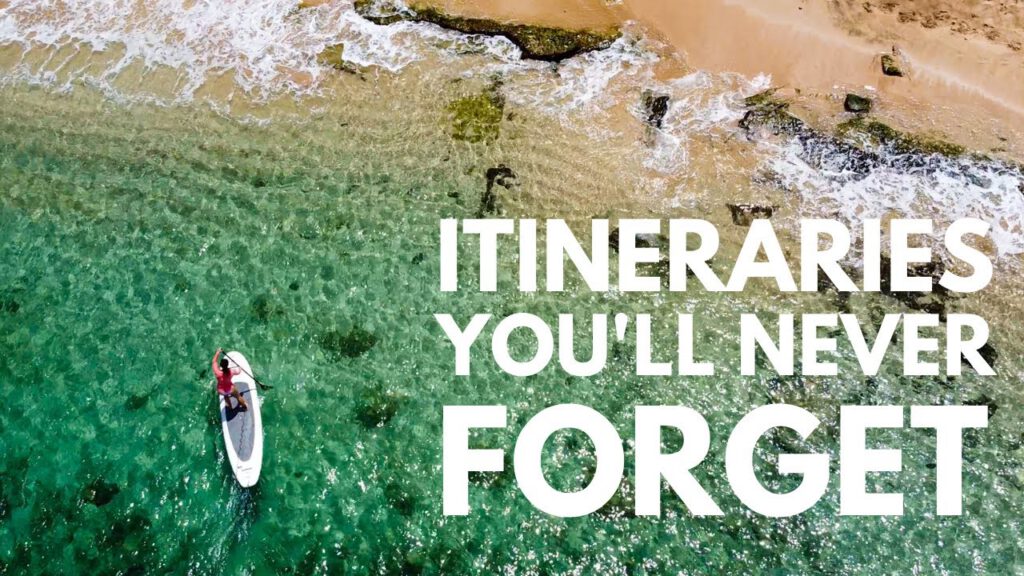 This image is property of i.ytimg.com.
Updated Information for 2021
In these uncertain times, it's important to stay informed about the latest travel updates and guidelines. Our itineraries are regularly updated to provide you with the most current information for your trip. We keep track of any changes in regulations, restrictions, or closures that may affect your travel plans. By choosing our itineraries, you can have peace of mind knowing that you have the most up-to-date information at your fingertips.
Reservation Tips for the Best Spots
Hawaii is a popular tourist destination, and securing reservations for accommodations, restaurants, and activities can sometimes be a challenge. But worry not! Our itineraries include insider tips and tricks to help you secure the best spots.
Whether you're looking for a luxurious beachfront resort, a cozy vacation rental, or a budget-friendly option, we provide a range of recommendations to suit your preferences and budget. We also share tips on how to make reservations in advance, avoid crowds, and take advantage of any special offers or discounts. With our guidance, you can ensure a seamless vacation experience without any last-minute disappointments.
Virtual Island Tour: Explore Before You Visit
Can't wait to embark on your Hawaiian adventure? We've got a solution for that! Our itineraries include a virtual island tour, allowing you to explore the beauty of Hawaii from the comfort of your own home. Through stunning photographs, videos, and interactive maps, you can get a sneak peek of the breathtaking landscapes, vibrant culture, and unique attractions that await you in Hawaii.
The virtual island tour will not only get you excited about your upcoming trip but will also help you plan your itinerary more effectively. You can get a sense of the different regions and islands, and prioritize the activities and attractions that interest you the most. So, dive into the virtual tour and start envisioning your dream vacation in paradise!
Save Time and Money with Curated Recommendations
Planning a vacation can be time-consuming and overwhelming, especially when you're unfamiliar with the destination. That's where our itineraries come in handy! We have curated a list of the best activities, attractions, and dining options to help you make the most of your time in Hawaii.
Our recommendations are based on extensive research and local knowledge, ensuring that you get the most authentic and memorable experiences. From must-visit beaches and hiking trails to hidden gems and local eateries, we have covered it all. By following our itineraries, you can save time on research and avoid tourist traps, allowing you to make the most of your precious vacation time.
Moreover, our itineraries include budget-friendly options and money-saving tips, so you can enjoy your dream vacation without breaking the bank. We believe that everyone should have the opportunity to experience the magic of Hawaii, regardless of their budget. So, leave the stressful planning to us and get ready for a fun-filled and affordable adventure in paradise!
Ensuring Your Dream Vacation in Hawaii
Our ultimate goal is to ensure that you have the dream vacation you've always imagined in Hawaii. By choosing our itineraries, you can trust that every detail has been carefully considered to provide you with an unforgettable experience. From the moment you arrive at the airport to the day you bid farewell to the islands, we have planned it all, so you can relax and enjoy every moment.
Our itineraries take into account the diverse interests and preferences of travelers, offering a variety of options for every type of adventurer. Whether you're seeking relaxation and tranquility or seeking thrilling adventures and adrenaline-pumping activities, we have tailored itineraries to suit your desires.
We have also included recommendations for local cultural experiences, such as attending traditional luaus, learning hula dancing, or exploring historical landmarks. Immerse yourself in the rich culture and heritage of Hawaii, and create memories that will last a lifetime.
Disclaimer and Assumption of Risks
While we strive to provide accurate and reliable information, it's important to note that traveling, especially during a pandemic, carries inherent risks. We want to ensure that you are aware of these risks and make informed decisions regarding your travel plans.
By choosing to travel to Hawaii and using our itineraries, you accept and assume all risks associated with your travel arrangements. It's essential to stay updated with the latest travel advisories, guidelines, and restrictions from relevant authorities.
We strongly recommend purchasing travel insurance that covers trip cancellation, medical expenses, and other unforeseen circumstances. It's also crucial to follow all health and safety guidelines provided by local authorities and establishments during your trip.
We cannot guarantee the availability, quality, or safety of the activities, attractions, accommodations, or services mentioned in our itineraries. It's your responsibility to conduct your own research and make informed decisions before making any reservations or participating in any activities.
Conclusion
Your dream vacation in Hawaii is just a download away! With our comprehensive itineraries, you can explore the enchanting islands and create lifelong memories. From stunning beaches and natural wonders to rich culture and thrilling adventures, Hawaii has it all.
So, why stress over planning when you can rely on our expertise? Let us take care of all the details and ensure that every moment of your trip is filled with joy, relaxation, and discovery. Download our Hawaii Itineraries today and get ready for the vacation of a lifetime – paradise awaits!