Are you planning a trip to Maui in 2023? Look no further! The Maui Hawaii Travel Guide for 2023 is here with 11 tips to ensure you have the best vacation ever. The video covers everything from where to stay and where to eat, to the best tours and things to do on the island. You'll also find resources like the Hawaii Vacation Guide Newsletter and a free Maui Travel Guide for more information and travel tips. Whether you're interested in Maui Luau Reviews, Maui Coupon Codes, or even a Maui Whale Watching Guide, this video has got you covered. From exploring Maui's beautiful beaches to immersing yourself in the local culture and experiencing the thrill of whale watching, this travel guide has all the tips and recommendations you need for an unforgettable Maui vacation in 2023. It's time to start planning and make the most of your trip to this tropical paradise.
Where to Stay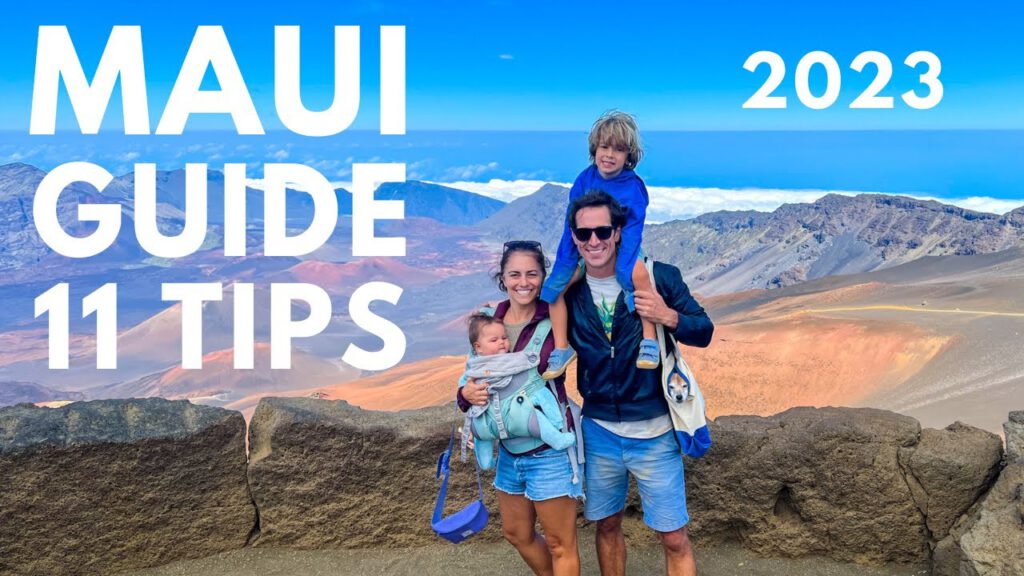 This image is property of i.ytimg.com.
West Maui
When it comes to finding the perfect place to stay in Maui, West Maui is a popular choice. Known for its stunning beaches and picturesque landscapes, this region offers a variety of accommodation options to suit every traveler's needs. Whether you're looking for a luxury resort, a cozy vacation rental, or a budget-friendly hotel, you'll find it in West Maui.
One of the highlights of staying in West Maui is the proximity to some of the most beautiful beaches on the island. From Kaanapali Beach, with its crystal-clear waters and golden sands, to the secluded and pristine Honolua Bay, West Maui has it all. In addition to beachfront access, many accommodations in this area also offer stunning ocean views, making your stay even more enjoyable.
South Maui
If you're seeking a more laid-back atmosphere with easy access to beautiful beaches, South Maui is the place for you. Home to popular beach towns like Kihei and Wailea, this region offers a range of accommodation options for all budgets.
South Maui is known for its picturesque beaches, including the breathtaking Makena Beach. With its turquoise waters and soft golden sand, Makena Beach is a favorite among locals and tourists alike. Other notable beaches in South Maui include Keawakapu Beach, perfect for a leisurely swim, and the tranquil Polo Beach, ideal for relaxation and scenic walks.
Kihei
Centrally located on the island, Kihei is a popular destination for budget-conscious travelers. With a variety of affordable accommodation options, Kihei is an excellent choice for those looking to explore Maui without breaking the bank.
Kihei boasts several beautiful beaches, such as Kamaole Beach Park, which offers excellent snorkeling opportunities and calm waters for swimming. Another highlight of staying in Kihei is the proximity to popular dining and shopping options, ensuring you have everything you need within reach.
Best Beaches
Napili Bay
Napili Bay is often considered one of the most beautiful beaches in Maui. With its crescent-shaped bay and crystal-clear waters, it's the perfect place for swimming, sunbathing, and snorkeling. The calm waves make it ideal for families, and the stunning views of Molokai and Lanai in the distance add to its charm.
Kapalua Bay
Kapalua Bay is a paradise for beach lovers. With its pristine white sand and calm turquoise waters, it's a perfect spot for swimming, paddleboarding, and snorkeling. The bay is home to an abundance of coral and marine life, making it an excellent spot for underwater exploration. Don't forget to bring your snorkeling gear to fully enjoy the beauty of Kapalua Bay.
Ulua Beach
Located in South Maui, Ulua Beach is known for its excellent snorkeling and swimming conditions. The clear waters and abundant marine life make it a favorite spot for snorkelers and scuba divers. If you're lucky, you might even spot sea turtles, who are frequent visitors to this beach. The beach is also equipped with showers, restrooms, and picnic areas, making it a convenient and enjoyable destination for a day in the sun.
Kamaole Beaches
The Kamaole Beaches, located in Kihei, offer three beautiful stretches of sand known as Kamaole Beach Park I, II, and III. Each beach has its own unique features, but all offer excellent swimming conditions, soft sand, and breathtaking sunsets. Kamaole Beach Park III is particularly popular for families, as it has a large grassy area perfect for picnics and BBQs.
Exploring Maui's Culture
Attending a Luau
No visit to Maui would be complete without attending a traditional Hawaiian luau. This cultural experience allows you to immerse yourself in Hawaiian traditions, music, and cuisine. From hula dancing performances to a sumptuous feast, a luau is a delightful way to learn about the rich culture and history of the Hawaiian people.
Visiting Museums and Historical Sites
To further explore Maui's culture, take a trip to the island's museums and historical sites. The Bailey House Museum in Wailuku offers a glimpse into the island's history through its collection of artifacts and exhibits. The Lahaina Historic Trail takes you on a self-guided tour of significant landmarks in the historic town of Lahaina, including the Baldwin Home Museum and the Wo Hing Museum.
Taking Guided Tours
If you prefer a more guided experience, there are plenty of tours available that offer insights into Maui's culture. Take a cultural walking tour to learn about Hawaiian customs and traditions, or join a guided tour to explore some of the island's hidden gems and historical landmarks. There are also food and farm tours that provide a unique perspective on the local cuisine and agricultural practices.
Maui's Whale Season
Whale Watching Tours on Boats
Maui is famous for its whale season, which typically runs from December to April. During this time, humpback whales migrate to the warm Hawaiian waters to breed and give birth. One of the best ways to experience these magnificent creatures up close is by taking a whale watching tour on a boat. From the comfort of a vessel, you can witness the awe-inspiring sight of whales breaching, tail slapping, and engaging in other playful behaviors.
Whale Watching Tours on Rafts
For a more adventurous and intimate whale watching experience, consider a tour on a raft. These smaller vessels allow for a closer encounter with the whales, as they can navigate closer to shore and enter smaller coves and bays. Raft tours often offer a thrilling ride and the opportunity to see other marine life, such as dolphins and sea turtles.
Whale Watching Tours on Kayaks
If you're seeking a truly unique and eco-friendly whale watching experience, try a guided kayak tour. Paddle out into the calm waters and listen for the sounds of the majestic whales. The quiet and unobtrusive nature of kayaks allows for an intimate experience with these incredible creatures. However, it's important to remember to respect their space and observe them from a safe distance.
Eating Local
Ultimate Maui Food Truck Guide
One of the best ways to experience the local flavors of Maui is by exploring its vibrant food truck scene. From fresh seafood to mouthwatering barbecue, the island's food trucks offer a diverse range of culinary delights. Head to the Maui Swap Meet in Kahului, where you'll find a variety of food vendors serving up everything from local Hawaiian dishes to international cuisine. Don't miss out on trying some popular food truck favorites like garlic shrimp, kalua pork, and shave ice.
Best Snorkeling Spots
Napili Bay
Napili Bay not only stands out as one of the best beaches in Maui but also offers fantastic snorkeling opportunities. The bay is home to vibrant coral reefs teeming with colorful fish and other marine life. Taking a dip in the clear waters of Napili Bay is like entering an underwater paradise, making it an ideal spot for snorkelers of all skill levels.
Kapalua Bay
Kapalua Bay is not only a beautiful beach but also a prime snorkeling location. Its calm waters and abundant marine life make it a favorite spot for snorkelers to explore the coral reefs just a short swim from the shore. Keep an eye out for the array of tropical fish and the occasional sea turtle gliding gracefully through the water.
Maalaea Harbor
Maalaea Harbor, located in Central Maui, is another popular snorkeling destination. Hop on a boat tour from the harbor, and you'll be taken to Molokini Crater, a marine sanctuary known for its excellent snorkeling and diving. With its crystal-clear visibility and diverse marine ecosystem, Maalaea Harbor is a must-visit spot for snorkelers looking to discover Maui's underwater wonders.
Maui's National Park
Haleakala National Park
Haleakala National Park is a must-visit destination for outdoor enthusiasts and nature lovers. This stunning park encompasses the dormant Haleakala volcano, which offers breathtaking panoramic views from its summit. Visitors can hike through otherworldly landscapes, explore unique flora and fauna, and witness stunning sunrises or sunsets from atop the crater. Whether you choose to embark on a challenging hike or simply enjoy the peaceful serenity, a visit to Haleakala National Park is bound to be a memorable experience.
Best Waterfall Swim
Twin Falls
For those seeking a refreshing adventure, Twin Falls is the perfect destination. Located on the famous Road to Hana, this picturesque waterfall is not only beautiful to look at but also offers the opportunity for a refreshing swim. Cool off in the inviting pools beneath the falls and enjoy the serene surroundings. Don't forget to bring your camera to capture the natural beauty of this hidden gem.
The Importance of Not Rushing
While Maui is undoubtedly a paradise with countless sights and activities to explore, it's important to remember the value of taking your time and savoring each moment. Rushing from one attraction to another can leave you feeling overwhelmed and prevent you from fully immersing yourself in the natural beauty and cultural experiences that Maui has to offer. Take the time to relax on the beach, stroll through the charming towns, and embrace the island's laid-back atmosphere. Remember, Maui will always be here, inviting you to slow down, appreciate the beauty around you, and create lasting memories.
When to Book
Booking Flights and Rental Cars Early
To ensure the best deals and availability, it's advisable to book your flights and rental cars early. Flights to Maui can fill up quickly, especially during peak travel seasons, so it's wise to secure your tickets as soon as your travel plans are confirmed. Similarly, rental cars can be in high demand, so booking in advance will help you secure the vehicle of your choice and potentially save money.
Discount Hawaii Car Rental
If you're looking to save on your rental car, consider using a discount car rental service. Discount Hawaii Car Rental is a popular platform that offers discounted rates from major car rental companies in Maui. Booking through such services can often result in significant savings, allowing you to allocate more of your budget toward other activities and experiences on the island.
Booking Restaurants in Advance
Maui is home to a vibrant culinary scene, with an abundance of restaurants offering diverse cuisines and flavors. To avoid disappointment and ensure you can dine at your desired establishments, it's recommended to book restaurants in advance, especially for popular or high-end options. Many restaurants offer online reservations, making the process quick and convenient.
Booking Tours in Advance
If you're interested in taking guided tours or participating in specific activities, booking in advance is essential. Popular tours, such as helicopter rides over Maui or snorkeling trips to Molokini Crater, often sell out quickly. By securing your spot in advance, you can avoid disappointment and ensure you don't miss out on any of the amazing experiences Maui has to offer. Additionally, booking ahead of time can help you plan your itinerary more efficiently and make the most of your time on the island.
In conclusion, Maui offers a diverse range of activities, natural wonders, and cultural experiences for every type of traveler. From choosing the perfect beach to exploring the island's rich history and indulging in the local cuisine, there's something for everyone on this beautiful Hawaiian island. Remember to take your time, embrace the laid-back atmosphere, and create lasting memories. Whether you're snorkeling in the crystal-clear waters or witnessing the awe-inspiring sight of humpback whales, Maui is sure to leave an indelible impression on you. Book your accommodations and activities in advance, and get ready for an unforgettable adventure in paradise.