Private Maui Luau
It is just you and your group of friends sitting on the beach, under a palm tree with a warm tropical breeze blowing through. You are all dressed in aloha wear, including flower leis and coconut bras for girls. It's time to celebrate! The Private Maui Luau has everything you need for an awesome celebration: * A private luau show * Delicious food that is prepared by our expert private chef Maui and private chef in Hawaii * Live entertainment in Hawaii is what you need!
The Private Maui Luau is perfect for any special occasion such as birthdays or anniversaries. We can arrange it so call us now!
Luaus are a traditional Hawaiian feast, dating back to the 17th century. It is not only an incredible way to experience local culture but also one of the best ways you can celebrate your next visit to Hawaii. Here is how these fabulous events work: there will be plenty of food and drinks served at all luau dinners as well as various performers who will entertain guests with hula dances or Polynesian chants. The evening usually ends when everyone gathers in a circle and does their "keiki" (Hawaiian for child) stomp dance which signifies joyous celebration. Private Luaus are perfect for every occasion – birthday parties, corporate functions, family reunions and more!
Hawaiian Luau music is a unique fusion of Polynesian, European and American influences. It evolved from traditional Hawaiian folk songs to include English lyrics with the onset of sugarcane plantations on Hawaii in 1852. The plantation era brought workers (mostly immigrants) who were not skilled at making their own instruments, so some Hawaiians learned to play Western style music while others found ways to accommodate our culture's musical needs with what was available.
Having a private luau event in Maui is beyond special! This is the perfect way to celebrate that special occasion you've been waiting for. The Private Maui Luau offers a private performance, delicious food prepared by our expert chefs and live entertainment!
Imagine having the perfect event, under the stars, with Hawaiian Entertainment, upbeat Hawaiian Luau Music and Hawaiian food for your own corporate or private luau to yourselves!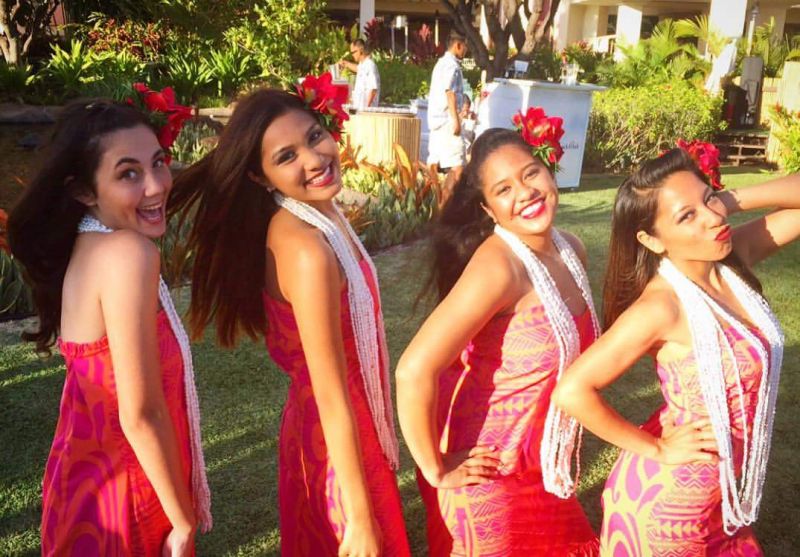 We want to bring the spirit of Hawaii to you, and that is why we offer a private luau in Maui. This event is perfect for those who are looking to create memories with family or friends – just like the Hawaiian people have been doing for centuries!
This beautiful island of Maui is the perfect setting for a sunset luau created especially for you. We incorporate traditional Hawaiian dancers, fire dancer Hawaii and hula performers at the special event of yours.
Hawaii Luau Company delivers a Private Luau Maui – the perfect way to celebrate a birthday, anniversary or any other Luau special event occasion. The sunset luau will be customized for your group can take place on the West side of Maui overlooking Molokai while you enjoy an island feast created just for you.
Is Going To A Luau In Maui Worth It?
A private luau experience is not your average luau. It's a special event for you and your closest friends or family members in the privacy of a private location, hopefully overlooking the ocean with tiki torches ablaze! The evening begins with cocktails on arrival followed by an incredible dinner buffet and headlining show featuring traditional Hawaiian Luau dance from Hawaii, Tahiti, New Zealand and more.
Some Of The Romantic Places In Maui That You Can Have Maui Event Venues?
Frequently Asked Questions
---
Do You Tip At A Private Luau Hawaii?
No. Private Luau Hawaii is a private event for your guests and the cost includes gratuity.
How Should You Dress For A Private Corporate Event Hawaii?
What do people wear at a luau in Maui? People typically wear a festive Hawaiian shirt, swimsuit and flip-flops.
As for ladies, you can choose to go with either a dress or skirt paired with sandals. Gentlemen should also bring their bathing suit as the luau is water based. If it's chilly outside during your event in Maui then light sweaters are recommended for both men and women. Flower leis and coconut shells that double up as drinking glasses can be added to the event! These items make great souvenirs after the party has ended so don't forget to take them home!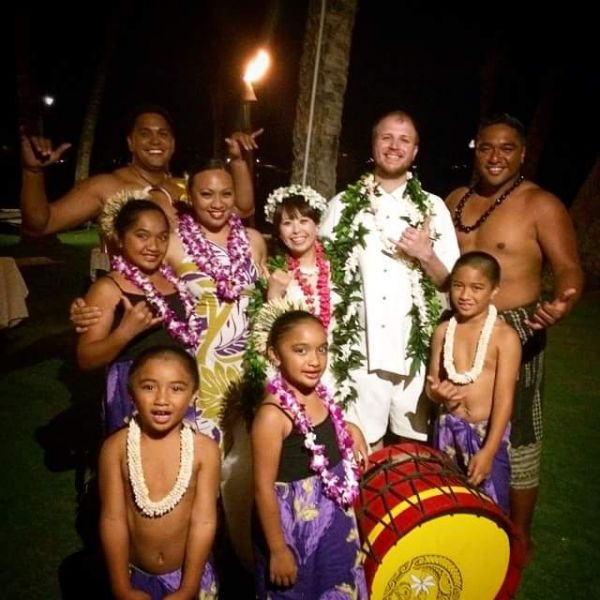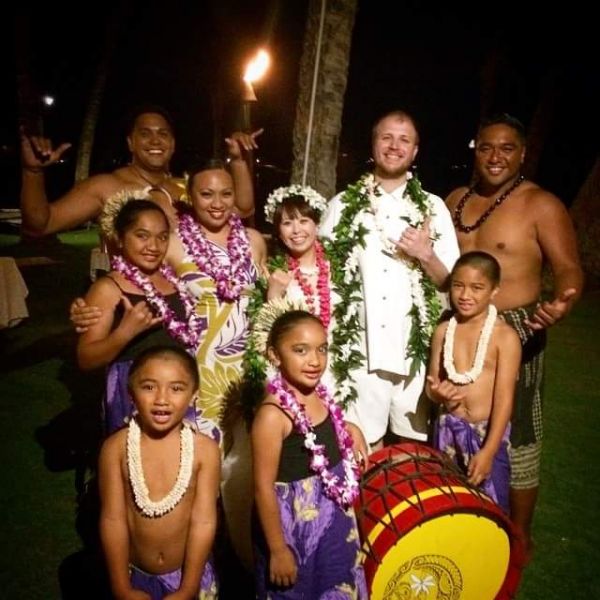 What Type Of Food Is Served At A Private Event In Maui?
Luau food favorites include Kalua pig wrapped in banana leaves alongside rice cooked in an imu (underground oven) plus sweet bread.
The menu also includes grilled fish, chicken long rice and haupia (coconut pudding). And, for dinner, the traditional luau food consists of poi, kulolo (Hawaiian coconut candy), and laulau – pork or chicken wrapped in taro leaves.
Hawaii Luau Company provides a great option because we can offer private dining Maui at sunset overlooking lush rolling hillsides. Our menus can feature prime rib of beef with all the trimmings as well as grilled lobster tail served Hawaiian style on steamed rice. Ala carte options include local salads, fruit including papaya and pineapple plus dessert such as cake – lava cake.
What Happens At A Luau?
A luau is a Hawaiian feast and celebration. The festivities often include traditional hula dancing, games, music. Guests might be treated to taro root salad (lu'au), pork ribs in an imu (underground oven) or chicken long rice dish. There are also great desserts such as haupia cake which is made from coconut milk. With all of these wonderful food items it's no wonder that the word "luau" means "to indulge."
In terms of Luau entertainment, expect hula dancing, fire knife dancers and the best Hawaiian Entertainment and Music.
How Long Does A Maui Luau Last?
A Luau, depending on the length of time it takes to prepare, can be anywhere from two hours up to three hours in duration. Remember that a luau is also an event and not just a meal or party which means you'll have plenty of chances for relaxation before dinner starts.
The Private Maui Luau
A private maui luau will last around 2-3 hours and includes your choice of either food service or buffet style. You can create your own personalized package by adding additional services such as hula lessons, lei making class, traditional games instruction and more (see below). The best part about booking a private luau is we tailor the event to you and your guests.
What Are The Hawaiian Dresses Called?
The luau dress is called a "muumuu" or simply known as the Hawaiian shirt. It's easy to wear, comfortable and can be found at most stores on Maui… Muumuu are beautiful dresses made from cotton prints with a touch of Polynesian flare.
Hula auana dress – It is a traditional Hawaiian dress for women. It is often worn by hula dancers at performances and other special occasions. Hawaiian and Polynesia hula auana dress is light and designed to make it easier for the dancer to move.
*Tip: If you're looking for something less casual, we recommend wearing a sarong or "pareo" to cover your legs and hips while enjoying the luau spread. But if it's not too chilly out, feel free to wear shorts*.
What Is The Hawaiian Skirt Called?
The Hawaiian skirt is called a pā'ū, and traditionally it was worn by women as an outer garment. It has become more popular among men in recent years, but the style remains true to its roots with intricate twists and tucks at the waistline. The material of choice for these skirts usually ranges from cotton or linen upholstery fabric to tapa cloth made of soaked kapa mulberry bark which creates strips with white, tan-colored stripes when dried. Picked out? Great! Now let's find you one today that will suit your needs perfectly!
What Does The Word "Hula" Mean?
The word hula refers to both the dance and music of Hawai'i. It is a secular form of entertainment dating back over 200 years when it was introduced by King Kamehameha I as an expression for his people to share their love of life. Hula skirts are usually made from brightly colored fabric that symbolizes joy, happiness and peace in Hawaii. They often feature images or symbols representing island culture such as pūpū flowers (yellow), ti leaves(green), kukui nuts (brown) or ālaea berries (red). If you're feeling around for style ideas, this might be just what you need!
What Is Hula?
Hula is an ancient dance that has been passed down for centuries by chanting legends with hand gestures (called mele), accompanied by rhythmic shaking of hips and shoulders to music played using drums, gourds, bamboo sticks wrapped in leaves (ti leaf) and other native instruments. The hula tells stories about mythological times when gods traveled across the earth teaching people how to live well. In addition to dancers displaying their skills during performances held just before sunset each performance.
Is A Luau Religious?
Luaus have a basis in traditional Hawaiian and Tahitian culture, but not typically religious. The word "luau" means "to feast" in Hawaiian.
The event is traditionally a social occasion where family and friends come together to eat, drink, dance, sing, tell stories of the past year's events and celebrate life.
There are many different variations on luaus around Hawaii with each one emphasizing a different part of the culture. For example some may have more traditional songs or dances while others might focus more on food from certain regions like Kalua pig for a romantic dinner Oahu or poi balls served at all islands' celebrations.
Luau feasts as they are called can be traced back to ancient times when people would celebrate by eating fruit that was not available during their everyday lives. In ancient times luaus were held for celebrations such as ceremonious occasions and religious rituals like thanksgiving weeks to honor gods who gave gifts including food.
A luau is a traditional Hawaiian feast that has become popular throughout the world. But how does it differ from other gatherings? The answer may surprise you! A true luau includes "kū's or kāhili, an altar with offerings and poi pounder for making poi, which are staples of this meal, as well as various kinds of fresh produce.
This celebration usually takes place outdoors in a Tiki hut—a large open-air structure where guests can enjoy the festivities while keeping cool on hot days.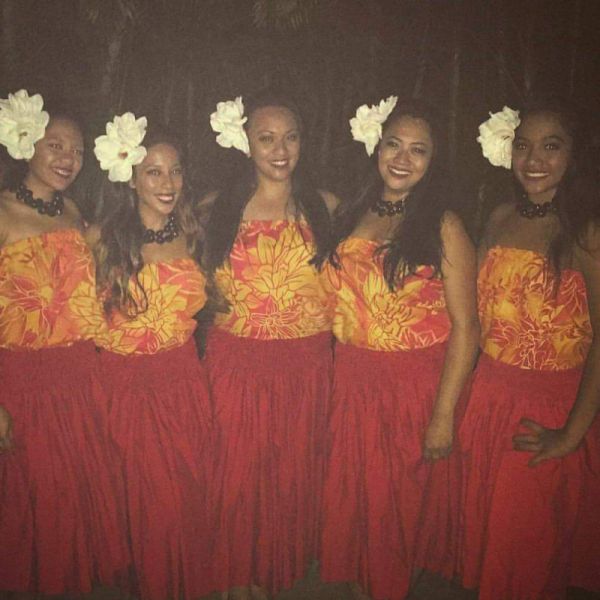 What's So Special About Private Luaus?
Private luas in Hawaii are the perfect thing to do just for your guests. These luas are a way of getting in touch with your inner islander and having an experience that is truly Hawaiian.
Private Luaus In Maui, Hawaii
There are many private luaus hosted on the beautiful island of Maui every year. They offer some wonderful experiences like Maui private dining on traditional foods such as 'poi' or roast pig, listening to live music from various instruments including ukulele, guitar and drums while watching performers dance hula or feeling the ocean breeze blow through your hair by having maui dinner on the beach fire ring where everyone joins hands for our version of "happy birthday."
How Do I Create A Corporate Event In Hawaii?
Hawaii Luau Company is the premiere corporate event company throughout the Hawaiian Islands. We provide all of the necessary services to create a private luau for you and your guests. We will take care of every detail so that it is stress free, including providing catering or serving an elegant dinner on the beach buffet from one of our caterers.
What To Consider When Hiring A Private Luau In Maui?
When choosing a company to host your private luau in Maui there are many factors to consider such as what style do you want (traditional Hawaiian hula show or authentic traditional Polynesian dance), how interactive would you like your experience to be with the performers, whether live music is preferred over recorded background music and if alcoholic beverages should be served or not.
Additionally, there is luau decor and traditional Tahitian costumes to consider. The Hawaiian hula dance costumes are brilliant and colorful. The beautiful patterns in the clothing represent the culture of Hawaii, as well as its diverse nature. Traditional Hawaiian folk dance costumes include grass skirts, malo (loincloth), coconut shell bra, and flower lei.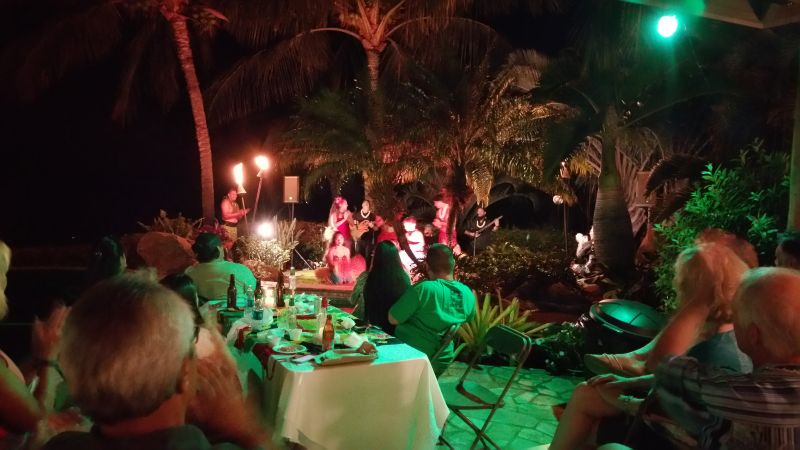 What Is The Imu Ceremony At A Luau
The Imu is a traditional Hawaiian cooking pit that has been used for centuries to cook pig and other types of food. It can be found in the center of every luau venue, usually surrounded by torches or rocks where guests can gather around it during dinner time.
What Should Be Included With The Private Luau In Maui?
The cost for a private dinner on the beach luau will vary depending on how many people attend and what specific services they would like included with their package such as food, entertainment and activities. For example ,if guests want cocktails or beer then there's an additional charge per drink and if they don't want traditional Hawaiian drinks, those prices would be cheaper.
There is also the cost of the venue rental, Hawaiian costumes and types of specifics for the Hawaiian music performed at the private corporate or private birthday luau Hawaii.
Here are some of the additional options that can be included in a private luau Maui:
– The Pa'ina Package which includes finger foods, Hawaiian drinks such as Piña colada, Mai Tai or Waikiki Beach Blonde. There is also an all you can eat buffet for guests to indulge their appetites with fresh and savory dishes like Haupia Pineapple Cake. For entertainment there will be live music from local entertainers playing ukulele, slack key guitar and other instruments native to Hawaii who may wear traditional Tahitian costumes at your request.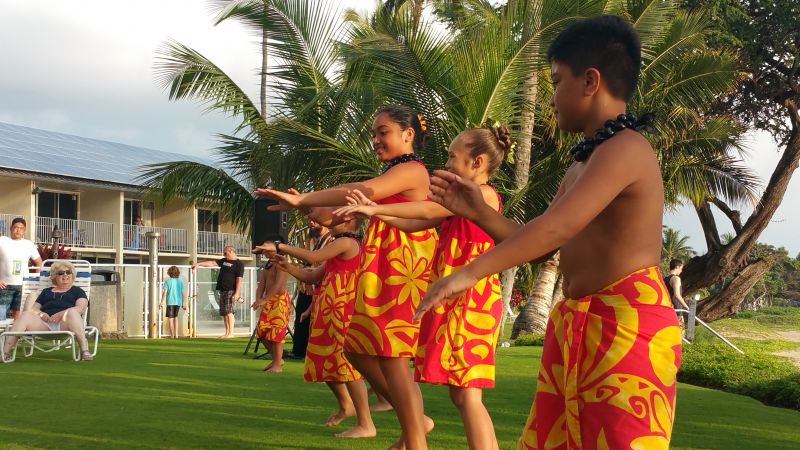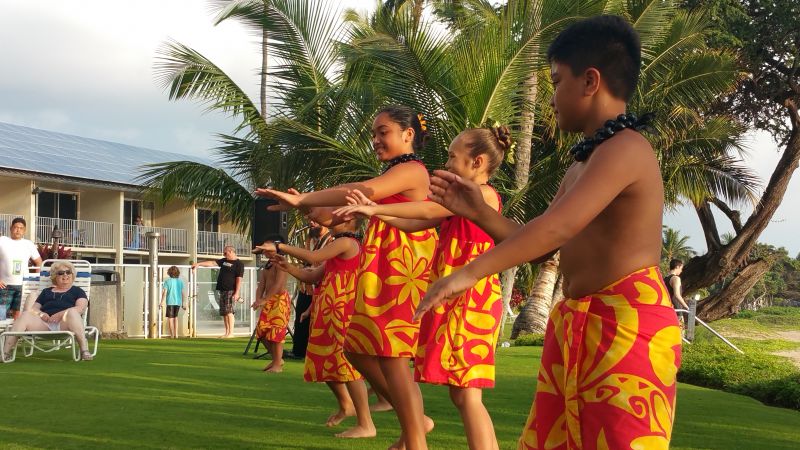 WHAT DOES A CORPORATE EVENT PLANNER DO, SUCH AS HAWAII LUAU COMPANY?
The event planner coordinates all the details of Hawaiian Luau party music or celebration, including venue selection, time management and menu planning. Private events are usually smaller in size and more personal than public events which often take place at banquet halls or hotels ballrooms with hundreds of people invited to attend.
Event planners work closely with their clients to provide everything they need for an unforgettable experience. Such an example is coordinating the right entertainment such as live music from local entertainers (Hawaii Luau Company), customizing menus based on dietary restrictions and designing personalized guest favors that will also be handed out during your private luau romantic Maui celebrations.
HERE ARE THE REASONS TO HIRE US:
1. Hawaii Luau Company provides you with a private Hawaii Luau for your corporate events or private parties. We have private Luau Hawaii for all types of occasions; from birthday celebrations to retirement parties.  You and your guests will receive the same royal treatment that is offered at public luaus, with personalized service and attention to detail in order to give you a truly one-of-a-kind event.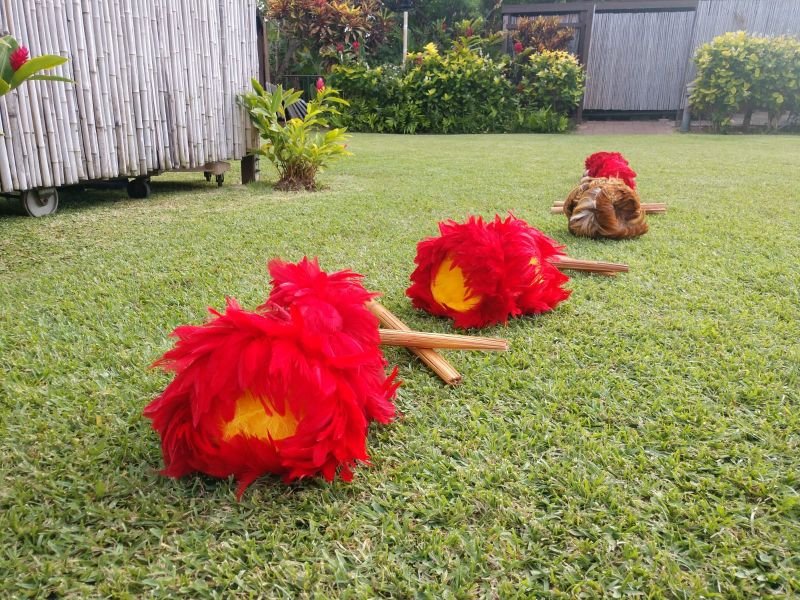 Your guests will be thrilled by the Hawaii Luau, the dancers and the stunning scenery. The outdoor views of the beach and your own personal event luau will make it memorable event in their life. It's perfect for celebrating any occasion such as birthdays or anniversaries, even weddings! Whether you are looking for something intimate or lavish-Hawaii has everything you need to plan your dream celebration.
3. The Hawaii Luau gives your guests a taste of the Spirit of Aloha
Aloha has many meanings including love, compassion and respect. This is a very important part of the tradition that makes up the Hawaii Luau celebration. When you say Aloha, it is about more than just the word, it is a feeling. Aloha is welcoming your guests and showing them that they are loved, cared for and important to you.
The Spirit of Aloha comes alive at our Private Hawaiian Luaus! You will feel warm embrace from staff as soon as you enter the grounds; we want to make this day so special for you and your guests. Our dancers work tirelessly practicing their steps during practice sessions every week in order to perform at an unforgettable level on event day.
4. Your guests will be entertained by the master of ceremony who will describe the beautiful dances and keep the show moving. Our Hawaiian dancers have trained in the history of the Hawaiian culture and Tahitian culture to bring a beautiful production to you.
Some of the songs include The voices of our ancestors are ringing, telling us stories of old Hawai'i. You can feel it in the wind. You can hear it in the rain. You can hear it in the beat of the pahu.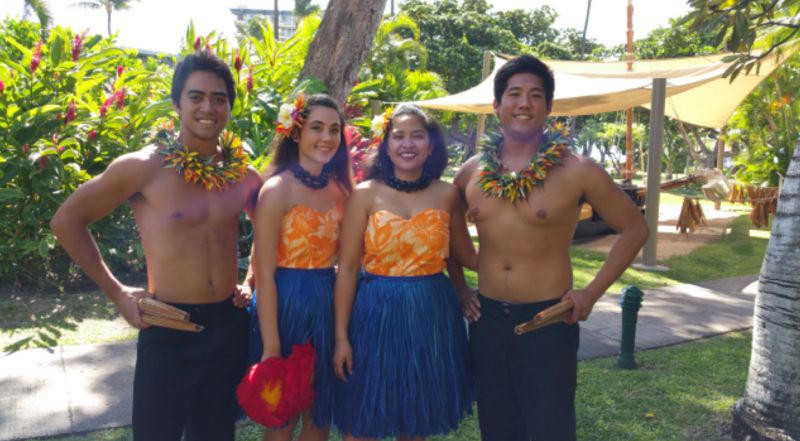 The drumbeat can take us back in time. A time when the Hawaiians would sing and dance, to honor their gods, for a bountiful harvest of crops. The pahu is the instrument that they used to mimic that beat again and again until it became one with them; each repetition carrying them closer to enlightenment as they worked together through this powerful but ancient ritual. Now we continue this tradition by bringing you our own taste of Hawaiian culture at Luau Maui!
We also have an event coordinator on staff who will make sure everything goes smoothly. You do not need to worry about anything because they have been trained extensively in all areas related to planning events such as weddings or birthdays parties just like yours.
5. You can choose from a variety of packages that fit your budget and the size of your group for your private corporate Hawaiian event. Hawaii Luau Company will take care of all the logistics from start to finish, including setting up tables and chairs before dinner by the beach begins; then taking them down again after everyone is served – this allows us to use one our venues more than just once! Private Maui Luau offers several packages per person based on different number of attendees.
6. Hawaii Luau Company can also provide you with luau food and drinks to go along with your luau show. We work with top caterers on all four Hawaiian islands for catering your event. Your guests will enjoy an authentic Hawaiian dinner with entertainment and activities like hula lessons, games of coconut bowling and grass skirts making to make it feel just like home on Oahu's North Shore.
We offer personalized packages including food selections from our catering partners in Honolulu and Hilo (Big Island), traditional roasted pig carving stations at Waikiki Beach – you name it; we'll take care of all the details for you so all you have to do is show up! You can choose from a variety of packages that will make your event perfect.
Hawaii Luau Company is comprised of Hawaiian cultural experts Kaniala and Melody Masoe, along with veteran show producers and director, Jeff Gitlin and Larry Pellegrini. We are a fully encompassed luau, accounting, sales, marketing and production company, with over 20+ years of creating the highest quality Hawaiian Entertainment. Because of our cultural expertise in Hawaii, we bring creative events to you. We offer a unique style of entertainment and Hawaiian culture that is not found in any other company.
We are proud to say we have been producing the most successful luaus for over 20 years, with an impeccable reputation for excellence! We handle all your event planning needs so you can just sit back relax and enjoy our production services which includes: – Private Luau Maui – Wedding Luaus| Kohala Coast Weddings | Kauai Weddings – Corporate Events
– Birthday Parties + BBQs -> Have us come produce your event at home or on the beach, make it personal by adding those special touches only Hawaii Luau Company can provide.
Private Family Friendly Maui Event
Hawaii Luau Company is the production company which created "Huaka'i – Journey Through Polynesia," which had a 6-year weekly performance run at the Ka'anapali Beach Club Resort in Maui, Hawaii.
We also have experience in coordinating events for groups of all sizes from 20 to 1000+ people. We can handle everything, including finding the perfect venue and catering for your event. Plus we offer packages customized to suit any budget with a variety of diverse luau options.
Private Maui Luau is an ideal way to celebrate life's special occasions without having to worry about anything – just enjoy it! Private luaus are popular on Kauai, Molokai or Lanai but a private Maui luau offers guests more room than those venues usually do as well as spectacular ocean views at sunset.
In conclusion, our award-winning team of professionals will consult with you to create an event that is both memorable and unique. We'll help you select the right entertainment package for your particular needs, including coordinating the appropriate talent (from live music from local entertainers to a full production show), customizing menus based on dietary restrictions and designing personalized guest favors that will also be handed out during your private luau Maui celebrations. With over 25 years in experience, our expertise is unparalleled – call today!
What are you waiting? Book now by contacting us today so we can give you all of the details about how to have one amazing night in Hawaii celebrating your event.
info@localhost
http://localhost/hawaiiluaucompany
888-582-8858
We Specialize In Entertainment From Our Heart – Luaus – Parties – Anniversaries And Weddings That Bring Our Heritage Of Polynesia Directly To You.
⦾ Dance With Us.
⦾ Listen To Our Songs.
⦾ Enjoy Our Stories.
Be A Part Of Our Strong Bond For Our Culture And For Each Other.