Are you planning a trip to Hawaii Volcanoes National Park but only have one day to spend there? Don't worry, The Hawaii Vacation Guide has got you covered! In their captivating video, they provide a perfect one-day itinerary for visiting the park from Kailua-Kona. Even if the famous Kilauea volcano isn't erupting, the park still offers plenty of things to see and do. They recommend checking out their Big Island itinerary for additional activities on the island and provide various tour options for visiting the Big Island. The video highlights the park's beauty, including stops at stunning locations like coffee shops, the Puna Lu Black Sand Beach, and the visitor center. It also mentions the possibility of visiting the Kahuku Unit as an alternative during peak times. For more details and trip planning, they direct viewers to the official website of Hawaii Volcanoes National Park. Join them on this exciting adventure and explore the wonders of this incredible park in just one day!

1. Introduction
Welcome to Hawaii Volcanoes National Park! This stunning national park is located on the Big Island of Hawaii and is home to two active volcanoes, Kilauea and Mauna Loa. With its unique geology, diverse ecosystems, and rich cultural history, Hawaii Volcanoes National Park offers an unforgettable experience for visitors. Whether you're a nature lover, an adventure seeker, or a history enthusiast, this park has something to offer for everyone. In this comprehensive guide, we will cover everything you need to know to plan and make the most of your visit to this remarkable national park.
2. Video Overview of Hawaii Volcanoes National Park
Before we dive into the details, let's take a quick video overview of Hawaii Volcanoes National Park to get a glimpse of its breathtaking beauty. Watching this video will help you get a sense of what to expect and will surely get you excited for your upcoming visit.
3. Planning Your Visit
3.1 Official Website of Hawaii Volcanoes National Park
To start planning your trip to Hawaii Volcanoes National Park, it's essential to visit the official website of the park. The website provides up-to-date information on park hours, closures, hiking trail conditions, and any special events or programs. You can also find detailed maps, visitor guides, and important safety information on the website. Make sure to check the website before your visit to get the most accurate and current information.
3.2 Tour Options for Visiting the Big Island
If you're visiting the Big Island of Hawaii and would like a guided tour of Hawaii Volcanoes National Park, there are plenty of options available. Many tour companies offer guided tours that include transportation, knowledgeable guides, and the opportunity to explore the park's highlights. Whether you prefer a group tour or a private tour, there are options to suit every budget and interest. Booking a tour can be a convenient and stress-free way to experience the wonders of the park while learning from experienced guides.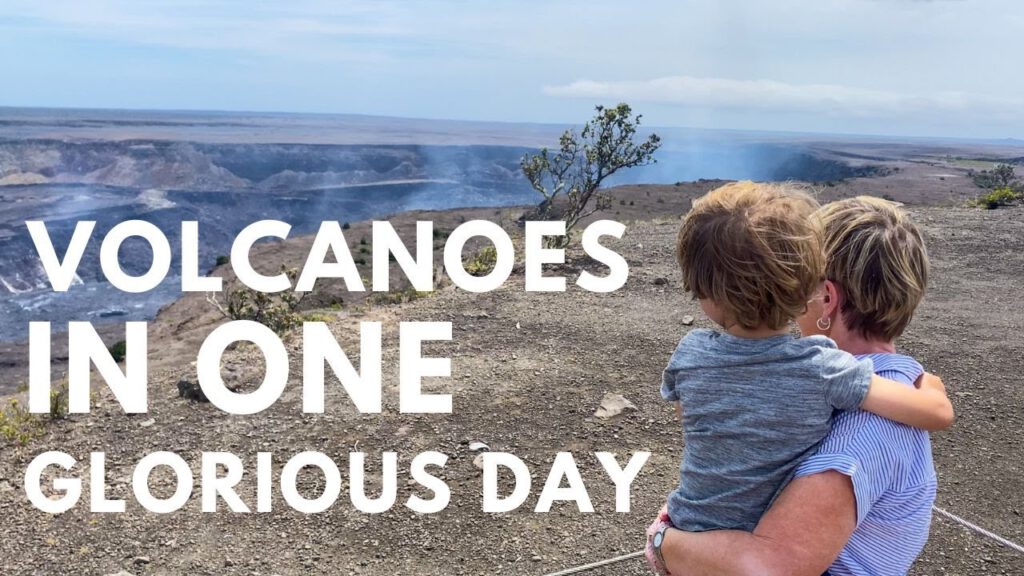 This image is property of i.ytimg.com.
4. Alternative Options during Peak Times
Hawaii Volcanoes National Park can be quite popular, especially during peak travel seasons. If you're visiting during a busy time and want to avoid the crowds, there are alternative options to consider.
4.1 Visiting the Kahuku Unit
The Kahuku Unit is a lesser-known area of Hawaii Volcanoes National Park located on the southern slope of Mauna Loa. This section of the park offers a different perspective and allows you to explore unique landscapes and cultural sites. You can take self-guided hikes, visit historic ranch buildings, and learn about the fascinating history of the region. Visiting the Kahuku Unit can be a fantastic alternative to the main visitor center and can provide a quieter and more secluded experience.
4.2 Exploring Other Areas of the Big Island
If you're looking for a break from the crowds, consider exploring other areas of the Big Island. From pristine beaches to lush rainforests and charming towns, the island offers a wide range of attractions and activities. You can relax on the beautiful white sands of Hapuna Beach, hike through the enchanting Akaka Falls State Park, or visit the historic town of Kailua-Kona. Exploring other parts of the Big Island will not only offer a change of scenery but also allow you to experience the island's diverse natural beauty.
5. Exploring Volcanoes National Park
Hawaii Volcanoes National Park is a vast and diverse park that offers a plethora of attractions and activities. Let's explore some of the highlights and must-see spots within the park.
5.1 Stops along the Way
As you drive through the park, there are several stops along the way that you won't want to miss. These stops provide stunning views of volcanic landscapes, unique geological features, and opportunities to learn about the park's natural and cultural history. Some notable stops include the Kilauea Overlook, Jaggar Museum, Halema'uma'u Crater, and the Steam Vents. Take your time at each stop and immerse yourself in the captivating beauty of the park.
5.2 Coffee Shops and Rest Stops
Exploring the park can work up an appetite, and luckily, there are coffee shops and rest stops within the park where you can refuel and take a break. These cozy coffee shops offer a selection of beverages, snacks, and light meals, perfect for recharging before continuing your adventure. Make sure to grab a cup of freshly brewed local coffee and savor the flavors while enjoying the tranquility of the park.
5.3 Puna Lu Black Sand Beach
No visit to Hawaii Volcanoes National Park would be complete without a visit to the stunning Puna Lu Black Sand Beach. This unique beach is formed by volcanic activity and features shimmering black sand, turquoise waters, and breathtaking coastal views. Spend some time here, take a leisurely stroll along the shore, and savor the beauty of this distinctive beach.
5.4 Visitor Center
The Visitor Center is an essential stop for anyone visiting Hawaii Volcanoes National Park. Here, you can gather valuable information about the park's history, geology, and wildlife. The knowledgeable park rangers are available to answer any questions, provide guidance on hiking trails, and offer insights into the park's natural wonders. Don't forget to browse the bookstore and pick up some educational materials or souvenirs to remember your visit.
6. Hiking Trails in Volcanoes National Park
Hawaii Volcanoes National Park is a hiker's paradise, with numerous trails catering to all skill levels and interests. Lace up your hiking boots and embark on an unforgettable adventure through the park's diverse landscapes.
6.1 Kilauea Trail
The Kilauea Trail is a popular hike that takes you through the heart of the park, showcasing its volcanic landscapes and lush rainforests. This moderate-level hike offers stunning views of the caldera, volcanic craters, and steam vents. As you traverse the trail, keep an eye out for native birds, colorful wildflowers, and unique geological formations. The Kilauea Trail provides an excellent opportunity to witness the park's natural beauty up close.
6.2 Devastation Trail
For a hike with a touch of history, the Devastation Trail is a must-visit. This trail takes you through a stark landscape that was devastated by a volcanic eruption in 1959. As you walk along the trail, you can observe the gradual regrowth of plant life in the once-barren area. This hike offers a glimpse of the resilience of nature and provides fascinating insights into the park's geological processes.
6.3 Importance of Sticking to Designated Trails
While exploring Hawaii Volcanoes National Park, it's crucial to stick to designated trails for your safety and the preservation of the park's fragile ecosystems. Straying from the trails can cause harm to the delicate vegetation, disturb nesting wildlife, and increase the risk of encountering hazardous terrain. By staying on designated trails, you can minimize your impact on the environment and ensure that future generations can enjoy the park's beauty.
6.4 Dangers of Illegal Hikes
It's important to note that there are areas within Hawaii Volcanoes National Park where hiking is strictly prohibited due to safety concerns. Venturing into these restricted areas can be extremely dangerous, as they may contain unstable ground, toxic gases, or active volcanic activity. It's crucial to respect these restrictions and follow the guidance of park rangers to ensure your safety and the preservation of the park.
7. Chain of Craters Road
One of the highlights of Hawaii Volcanoes National Park is the Chain of Craters Road, a scenic drive that takes you through the park's varied landscapes and showcases its volcanic features. Let's explore some of the stops and attractions along this remarkable road.
7.1 Stops and Attractions along the Road
As you drive along the Chain of Craters Road, there are several stops and attractions worth exploring. These include the Holei Sea Arch, Mauna Ulu Lava Flow, and the Pu'u Huluhulu Cinder Cone. Each of these stops offers unique perspectives and photo opportunities, allowing you to witness the power and beauty of volcanic activity.
7.2 Petroglyphs
Within Hawaii Volcanoes National Park, you can find ancient petroglyphs, rock carvings created by Native Hawaiians centuries ago. These petroglyphs offer a glimpse into the island's rich cultural history and are considered sacred by the local community. As you explore the park, take the time to appreciate these historical artifacts and reflect on the connection between nature and culture.
7.3 P'u Loa Petroglyphs
The P'u Loa Petroglyphs are a significant site within the park and are home to over 23,000 petroglyphs, making it one of the largest concentrations of rock art in Hawaii. This sacred place holds great cultural and spiritual significance and is a testament to the island's ancient inhabitants. Take a guided tour or embark on a self-guided walk to explore this remarkable site and learn about the stories and traditions preserved in these carvings.
7.4 Sea Arch
The Holei Sea Arch, located along the Chain of Craters Road, is a natural wonder that shouldn't be missed. This stunning rock formation was created by years of erosion, wind, and ocean waves. The arch offers a mesmerizing view of the crashing waves and the vast expanse of the Pacific Ocean. It's a perfect spot to pause, take in the beauty of nature, and capture some memorable photos.
8. Thurston Lava Tubes
Venture into the depths of the Earth at Thurston Lava Tubes, an extraordinary geological formation within Hawaii Volcanoes National Park. The lava tubes were created when lava flowed through the area, leaving behind a network of caves and tunnels. Explore these unique lava tubes and witness the incredible natural architecture shaped by molten rock. As you walk through the tubes, imagine the sheer power and force of the volcanic eruptions that created them, and marvel at the wonders of nature.
9. Evening Activities
After a day of exploration, there are plenty of activities to enjoy in the evening within and around Hawaii Volcanoes National Park.
9.1 Trying to Witness the Glow of Kilauea Crater
If you're lucky, you may have the chance to witness the glow of Kilauea Crater in the evening. As the sun sets and darkness falls, the lava within the crater can create an enchanting glow that illuminates the night sky. Check with park rangers or visit the official website for updates on the activity levels of the volcano and whether viewing the glow is possible during your visit. This is a truly awe-inspiring experience that should not be missed if the conditions allow.
9.2 Pictures from Hawaii Vacation Guy Community
If you're a photography enthusiast or simply enjoy viewing stunning images, explore the pictures shared by the Hawaii Vacation Guy community. This online community consists of avid photographers who capture the beauty of Hawaii's landscapes, including the mesmerizing scenes within Hawaii Volcanoes National Park. These pictures can provide inspiration for your own photography or simply allow you to appreciate the park's natural wonders from the comfort of your own home.
9.3 Other Options for Evening Activities
If viewing the glow of Kilauea Crater isn't possible or you're looking for alternative activities, consider exploring the nearby towns and villages around Hawaii Volcanoes National Park. These charming communities offer a wide range of dining options, art galleries, cultural experiences, and even stargazing opportunities. Relax at a local restaurant, browse unique shops, or join a stargazing tour to witness the island's incredible night sky. Engaging in these evening activities will provide a well-rounded and memorable experience of the island.
10. Experiment and Conclusion
As you explore Hawaii Volcanoes National Park, take the opportunity to immerse yourself in its wonders, engage with the natural and cultural heritage of the island, and create lasting memories. Remember to plan your visit in advance, adhere to safety guidelines, and respect the park's regulations and restrictions. By doing so, you'll ensure a safe and enjoyable experience while preserving the park's delicate ecosystems for future generations. Enjoy your journey through the captivating landscapes of Hawaii Volcanoes National Park, and embrace the spirit of adventure that awaits you on the Big Island of Hawaii.