Planning a trip to Kauai, Hawaii can be overwhelming with so much to see and do. That's why we've narrowed down the top three can't-miss activities for you. First up is the Napali Coast, a stunning coastline that can be explored through boat tours, offering breathtaking views of waterfalls, secluded beaches, and majestic cliffs. Next, don't miss the chance to visit Henna State Park and Ka Beach, one of Hawaii's top beach destinations. Just make sure to plan ahead and book your reservation, as there is a reservation system in place to preserve the natural ecosystem. Lastly, Hanalei Bay on the north side of the island is a must-visit, with its picturesque bay, charming town, impressive cliffs, and delicious food options. Plus, we've included two bonus activities: visiting Waimea Canyon, often referred to as the "Grand Canyon of the Pacific," and exploring the attractions in Poipu, including the famous Poipu Beach and the heritage trail. So go ahead and start planning your unforgettable trip to Kauai. Aloha!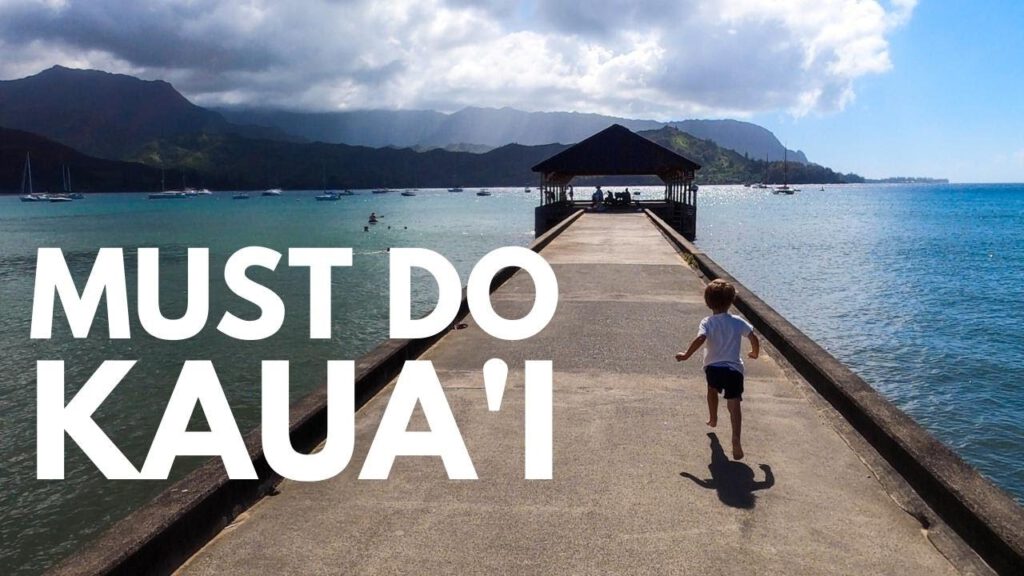 This image is property of i.ytimg.com.

Napali Coast Boat Tours
Overview
If you're looking to experience the breathtaking beauty of Kauai's Napali Coast, a boat tour is an absolute must. These tours offer the perfect opportunity to explore the rugged coastline, witness majestic waterfalls, and discover secluded beaches that can only be accessed by boat. Whether you're a nature lover, an adventure seeker, or simply looking for a serene escape, Napali Coast boat tours have something to offer everyone. Get ready for an unforgettable journey through one of the most stunning landscapes in the world.
Boat Tour Options
Napali Coast boat tours come in a variety of options to suit different preferences and budgets. From luxury catamarans to small private charters, there is a tour for everyone. If you prefer a more intimate experience, you can opt for a small-group tour that allows for a more personalized and interactive adventure. On the other hand, if you're looking for a more luxurious experience with spacious decks and first-class amenities, a larger catamaran might be the way to go. Whichever option you choose, rest assured that you'll have a knowledgeable crew guiding you through the wonders of the Napali Coast.
Coastline Views
One of the highlights of a Napali Coast boat tour is the awe-inspiring views of the coastline. As you cruise along the crystal-clear waters, you'll be treated to panoramic vistas of towering cliffs, lush green valleys, and hidden sea caves. The sheer magnitude of the cliffs will leave you speechless and the vibrant colors of the coastline will create a visual feast for your eyes. Don't forget to bring your camera to capture these incredible views and create lasting memories of your trip.
Waterfall Sightings
Napali Coast is home to numerous waterfalls cascading from the majestic cliffs into the sea below. On your boat tour, you'll have the opportunity to witness these spectacular natural wonders up close. Feel the mist on your face as you sail beneath the cascading streams and marvel at the raw power and beauty of nature. Some tours even offer the chance to swim or kayak near the waterfalls, allowing for a truly immersive experience that will leave you in awe of these natural wonders.
Secluded Beaches
One of the greatest advantages of exploring the Napali Coast by boat is the ability to access secluded beaches that are inaccessible by land. These pristine stretches of sand offer a tranquil escape from the crowds, allowing you to relax and unwind in a truly remote setting. Enjoy a leisurely stroll along the shore, soak up the sun, or take a refreshing dip in the crystal-clear waters. The untouched beauty and serenity of these hidden gems will make you feel like you've discovered your own private paradise.
Henna State Park and Ka Beach
Introduction
Henna State Park and Ka Beach are two must-visit destinations on the island of Kauai. Located on the eastern coast, these natural wonders offer a perfect blend of scenic beauty and recreational activities. Whether you're a nature enthusiast, a beach lover, or simply seeking tranquility, Henna State Park and Ka Beach have something for everyone.
Reservation System
To ensure a smooth and enjoyable visit, it is important to be aware of the reservation system in place for Henna State Park. Due to its popularity, entry to the park is limited and requires a reservation. It is advisable to make your reservation well in advance to secure your spot and avoid disappointment. The reservation system helps in preserving the park's natural beauty and ensures a more sustainable and controlled visitor experience.
Park Attractions
Henna State Park is renowned for its remarkable red rock formations, lush greenery, and diverse flora and fauna. The park offers several hiking trails that take you through this mesmerizing landscape, providing opportunities to explore hidden valleys, discover ancient Hawaiian petroglyphs, and encounter rare plant and animal species. Don't forget to bring your camera to capture the breathtaking vistas and unique geological formations that make Henna State Park so special.
Beach Activities
While Henna State Park is known for its fascinating geological wonders, Ka Beach is the perfect place to relax and enjoy the pristine sands and turquoise waters of Kauai. Whether you're looking to swim, snorkel, or simply soak up the sun, Ka Beach offers it all. The calm and shallow waters are ideal for families with young children, while the snorkeling enthusiasts can explore the vibrant coral reefs teeming with marine life. With its picture-perfect scenery and serene ambiance, Ka Beach is a true paradise for beach lovers.
Hanalei Bay and Town
Bay Description
Welcome to Hanalei Bay, a picturesque crescent-shaped bay located on the north shore of Kauai. With its turquoise waters, panoramic mountain views, and golden sand beaches, Hanalei Bay is often regarded as one of the most beautiful bays in Hawaii. The bay stretches two miles wide and is surrounded by lush green mountains, offering a stunning backdrop for your visit. Whether you're a surfer, a swimmer, or simply seeking tranquility, Hanalei Bay is sure to captivate you with its natural beauty.
Charming Hanalei Town
Nestled at the mouth of Hanalei Bay lies the charming Hanalei town. This idyllic town offers a laid-back atmosphere, friendly locals, and a range of quaint shops and eateries. Take a leisurely stroll through the tree-lined streets and immerse yourself in the local culture. Browse through the boutique stores for unique souvenirs, savor delicious Hawaiian cuisine at the local restaurants, or simply relax at one of the cafés and watch the world go by. Hanalei town perfectly complements the natural beauty of Hanalei Bay, providing a delightful blend of relaxation and exploration.
Scenic Cliffs and Waterfalls
Hanalei Bay is not just about the beach and town; it is also surrounded by scenic cliffs and waterfalls that add to its charm. As you explore the bay, you'll notice majestic waterfalls cascading down the lush green mountainsides, creating a postcard-worthy backdrop. The cliffs provide a dramatic contrast to the tranquil bay, showcasing the raw beauty of Kauai's landscape. Don't forget to constantly have your camera ready to capture these breathtaking vistas and make your friends back home jealous of your incredible adventures.
Food Options
After a day of exploring Hanalei Bay and town, you'll surely work up an appetite. Luckily, Hanalei offers a range of dining options to satisfy all taste buds. Whether you're craving fresh seafood, traditional Hawaiian dishes, or international cuisine, you'll find it all in Hanalei. From upscale restaurants with ocean views to casual eateries and food trucks, there is something to suit every palate and budget. Indulge in the flavors of Kauai and treat yourself to a memorable dining experience in Hanalei.
Waimea Canyon
Description
Welcome to Waimea Canyon, often referred to as the "Grand Canyon of the Pacific." Located on the western side of Kauai, Waimea Canyon is a geological marvel that spans approximately ten miles and reaches a depth of over 3,500 feet. The mesmerizing red and orange hues of the canyon walls, the lush green foliage, and the cascading waterfalls create a stunning tapestry of colors that will leave you in awe of nature's magnificence.
Comparison to Grand Canyon
While Waimea Canyon is often compared to the Grand Canyon, it has its own unique beauty and character. Unlike the vastness of the Grand Canyon, Waimea Canyon offers a more intimate and accessible experience. The vibrant colors of Waimea Canyon, combined with its lush vegetation and waterfalls, create a tropical paradise that is distinctively different from the arid landscapes of the Grand Canyon. Both canyons have their own allure and exploring Waimea Canyon will truly showcase the diversity and natural wonders of Kauai.
Scenic Views
Waimea Canyon is famous for its breathtaking scenic views. As you drive along the scenic Waimea Canyon Drive, you'll be treated to numerous lookout points that offer panoramic vistas of the canyon and its surrounding landscapes. These viewpoints provide the perfect opportunity to capture stunning photographs and take in the awe-inspiring beauty of the canyon. From the famous Waimea Canyon Lookout to the lesser-known viewpoints, each stop along the way will leave you breathless and constantly reaching for your camera.
Hiking Opportunities
For those looking to fully immerse themselves in the beauty of Waimea Canyon, there are several hiking trails to suit different skill levels. Whether you're a novice hiker or an experienced trekker, you'll find a trail that suits your abilities and preferences. The trails range from easy, family-friendly strolls to more challenging hikes that take you deep into the heart of the canyon. Whichever trail you choose, be prepared to be surrounded by awe-inspiring vistas, lush vegetation, and the soothing sounds of nature.
Attractions in Poipu
Poipu Beach
Poipu Beach, located on the southern shore of Kauai, is often regarded as one of the best beaches in Hawaii. This crescent-shaped beach offers pristine white sands, crystal-clear waters, and a range of activities for beach lovers of all ages. Whether you're looking to swim, snorkel, or simply relax on the shore, Poipu Beach has it all. The calm and shallow waters are perfect for families with young children, while the rocky outcrops provide excellent snorkeling opportunities. Don't forget to keep an eye out for the playful Hawaiian monk seals that often come ashore to bask in the sun.
Heritage Trail
For those interested in learning about the rich history and culture of Kauai, the Poipu Beach Heritage Trail is a must-visit. This self-guided walking tour takes you along the stunning coastline, passing historic sites, culturally significant landmarks, and natural wonders. Along the way, you'll find informational signs that provide insights into Kauai's past and present. Discover ancient Hawaiian temples, learn about the island's geological formations, and gain a deeper appreciation for Kauai's unique heritage.
Outdoor Activities
In addition to its beautiful beaches, Poipu offers a range of outdoor activities to keep you entertained and active throughout your visit. Whether you're interested in kayaking, paddleboarding, or ziplining, there are plenty of options to choose from. Explore the hidden coves and sea caves by kayak, ride the waves on a stand-up paddleboard, or fly through the jungle on a thrilling zipline adventure. Adventure awaits around every corner in Poipu, making it a paradise for outdoor enthusiasts.
Resort and Shopping Options
Poipu is also home to a variety of resorts, hotels, and vacation rentals that offer luxurious accommodations and world-class amenities. Whether you're looking for a beachfront resort with ocean views or a cozy boutique hotel nestled in tropical gardens, you'll find the perfect place to rest and rejuvenate in Poipu. Additionally, Poipu offers a range of shopping opportunities, from high-end boutiques to local artisan markets. Browse through unique souvenirs, shop for Hawaiian clothing and accessories, or pick up local delicacies to savor back at your accommodation.
Conclusion
Kauai, the Garden Island of Hawaii, offers a wealth of attractions and natural wonders that will leave you in awe of its beauty. From the rugged cliffs of the Napali Coast to the tranquil beaches of Hanalei Bay, there is no shortage of breathtaking vistas and immersive experiences to discover. Whether you're seeking adventure, relaxation, or a blend of both, Kauai has it all. Embark on a Napali Coast boat tour, explore the wonders of Henna State Park and Ka Beach, marvel at the scenic views of Waimea Canyon, and indulge in the attractions of Poipu. With its friendly locals, welcoming atmosphere, and unparalleled natural beauty, Kauai is sure to capture your heart and create memories that will last a lifetime.